by BenV on Aug.05, 2009, under Software
I just ran into this cute 'top' replacement called htop, thought I'd let you know.
If you don't know what top is, you probably shouldn't be here in the first place… 😉
After playing with it for a bit it looks like this on my machine (click for fullsize image):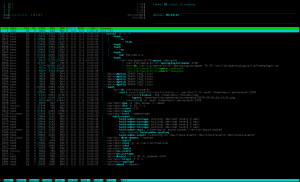 Things I like about it:
Fast responsive interface, and the good thing is that it feels a lot better than the original top does.
Interface is intuitive, also makes good use of available space. Showing a 'sort' menu and closing it again after a choice is made, I like.
Easy to nice/kill stuff without having to type pids like with top. Simply "browse" to your process and KILL KILL KILL!!!! 😉
Cute features like bar/graph/led mode for your CPU etc.
And so far I have found no "bad" things about it yet, but migth still come 😉
Only possibly bad thing could be the ncurses requirement, but that shouldn't be an issue.
Needless to say it worked fine with my slackbuild script.
Try it out and see if you like it yourself.