Tag: irssi
by BenV on Apr.10, 2010, under Software
When nectarine died a few years ago (or at least, that's how I view it) with their broken harddisks, lost backups and whatnot, I gave up on the necta.pl tool me and a friend of mine had written.
However, a few months ago I got back into listening to the new scenemusic.eu who got everything back up and running based on recovered data from the old Nectarine.
It seems like they did a proper job of setting up a new site, and they even provide a nice xml backend for tools like this.
So after a while I decided to revive our tool. This time I took the time to curse even more at Irssi and their script support, so I implemented the nonblocking fetcher and nectarine parser
in separate libraries. Well, isn't that fun. Reloading those things was a problem (/script load necta wouldn't reload those underlying libraries), but fortunately Garion helped me out here after a mail to the Irssi mailing list. Thanks Garion!
Anyway, I've put the first release up for download on this page:
http://notes.benv.junerules.com/necta/
Or a direct link to the download:
[Download not found]
Let the bug report begin 😉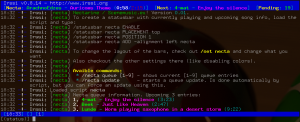 Leave a Comment
:irssi, necta, perl
more...